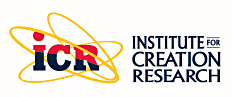 Institute for Creation Research (ICR) has oodles of science resources accessible on its website. In addition to finding out more about who they are and what they do, the website gives you access to articles and updates related to creation science, the latest scientific discoveries, events offering fabulous teaching, and their excellent free devotional, Days of Praise, which I referred to on Day D.
ICR is one of the most respected and well-known Creation Science organizations in the USA and in the world. Dr. Henry Morris founded ICR in 1970, and since then it has been a herald for the cause of honoring Scriptural truth from the very first word. Their focus is on research, education, and communication of all things related to understanding our Creator and His creation.
They recently started offering a free app to allow you to access information quickly right from your smart phone or other mobile devices which you can download from the website. This is only one of the many free resources they offer. They have a number of books and media materials that you can purchase on the website as well for the very young to the very old.
Graduate school programs with their School of Biblical Apologetics are offered at a very affordable price. Educational events and lectures with ICR scientists and speakers take place across the country and around the world to inform people that science and the Bible, Christianity in particular, are not in opposition to one another. It is not an either or deal, but the two fit together very well. ICR is on a mission to equip Christians to be able to effectively defend their faith as we are called to do in 1 Peter 3: 15-18 (NASB).
"
but

sanctify Christ as Lord in your hearts, always being ready to make a defense to everyone who asks you to give an account for the hope that is in you, yet with gentleness and reverence; and keep a good conscience so that in the thing in which you are slandered, those who revile your good behavior in Christ will be put to shame. For it is better, if God should will it so, that you suffer for doing what is right rather than for doing what is wrong."
1 Peter 3:15-18